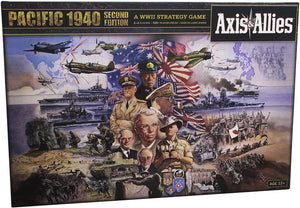 Includes new ANZAC miniatures as well as new mechanized infantry and anti-aircraft artillery

Axis & Allies Pacific 1940 can be combined with Axis & Allies Europe 1940 to create the greatest Axis & Allies experience to date

Both game boards unite to create a massive 70" x 32" playing field that will let you experience the full scale of World War II global conflict
Axis & Allies Pacific 1940 features an oversized board that measures 35 Inch wide by 32 Inch high (89 x 81 cm). With over 450 pieces, deluxe game components and local storage boxes, this game raises the standard established by A&A Anniversary Edition. All new rules for neutral nations, naval & air bases, kamikaze attacks and convoy disruption add even more depth and historical accuracy to this giant game.