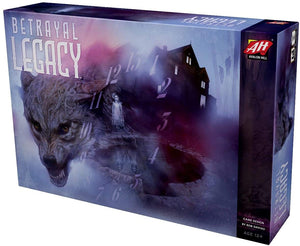 Every house has a story. This one is yours.
With its history shrouded by wild-eyed ravings and the scrawling of madmen, it was thought that no one would ever know the unholy origin of the house on the hill.
Until now.
The history you tell is one you create. Journey back to the beginning of the horror as you create a unique story told through several generations of families obsessed with the house.
Based on the award-winning Betrayal at House on the Hill, Betrayal Legacy is a unique experience offering you the chance to create the iconic house's story through decisions and actions taken in the game. Once the campaign is complete, you'll be left with a fully re-playable, customized board game.
Generations of families. Centuries of terror. At last, the grisly secrets of the house on the hill are revealed. Surely you'll escape this time. . .

Beware! In "Legacy" board games, any move you make could come back to haunt you on the next time you play.

Unlock the mysteries of the iconic house during a 13-episode campaign. Once all the secrets are revealed, you'll have a fully replayable, customized board game.

With 52 blood-curdling haunts—including 13 that permanently alter your copy of the game—each trip to the house on the hill promises fresh horrors and discoveries.

Players must work together to survive the nightmare. . .until the house forces some of you against the rest.