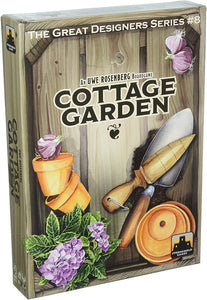 Cottage Garden can be played from 1-4 players... yes, even 1 player!

Cottage Garden is based on the game Patchwork, but adds much additional game play and a wider range of player count.

Players: 1-4

Time: 45-60 mins

Ages: 8+
As ambitious gardeners, you face the challenge of filling the beds in every corner of your garden with plants, inspired by the limitations of space, to create new compositions. You will use a variety of plants - as well as flowerpots and garden items - to design a cottage garden that blooms with diversity. Players compete to create the best cottage garden, working two beds simultaneously, visiting the central market to gather their supplies. Once a bed is completed, it is scored and then replaced with a fresh bed. After a fifth lap through the market, the player with the most points in completed cottage gardens wins!