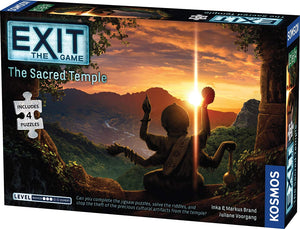 Escape Room game for the home, with four jigsaw puzzles.

Crooked treasure hunters have found the map to the sacred temple. Can you solve the riddles and catch the thieves before they steal the ancient treasures?

Helpful clue cards ensure you never get stuck on a riddle.

This game can be played once because you markup, fold, and tear the game materials.

Part of the 2017 Kennerspiel des Jahres award-winning series.

Exit Puzzle
EXIT: The Game
EXIT: The Game is a series of escape room games for the home. Players must work together to solve the riddles, crack the codes, and escape from an imaginary room or environment. But the clock is ticking! Can you escape?
Escape room in a box: Bring the excitement and intensity of an escape room to your living room!

Teamwork: Up to 4 players work together to solve the clues and escape.

Unique themes: Each game has a different setting with clues and puzzles integrated into the storyline.

Unplugged: App not required! Everything needed is included in the box.

One-time use: Each game can only be played once, because you must mark up, fold, and tear the game materials to crack the codes.
EXIT: The Sacred Temple (With Jigsaw Puzzles)
You are racing through a jungle, trying to save the professor and find the Sacred Temple before the treasure hunters do. In this EXIT title, players construct the scene of their adventure by completing four 88-piece jigsaw puzzles!
Difficulty Level: 3 of 5