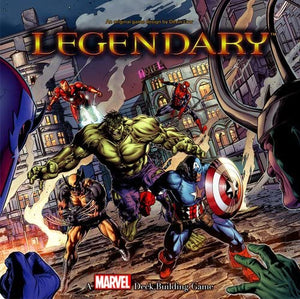 Easy to learn, with fast-paced gameplay

Features incredible original artwork of Marvel heroes and villains

Game consists of nearly 600 cards, Full color Game board & Color Rule Book

Designed by award-winning game designer Devin Low, former Head Developer of Magic: The Gathering

Legendary is a deck-building game set in the Marvel Comics universe

Players choose a number of hero decks from the likes of Spider-man, Hulk, Cyclops or Wolverine

Players then choose a mastermind villain (Magneto, Loki, Dr. Doom, etc.) and stack that particular villain's attack cards underneath it
In Legendary, players take on the roles of Marvel heroes, including the Avengers and X-Men, and team up to defeat an evil Mastermind. The players have to defeat the likes of Magneto, Loki, Dr. Doom, or Red Skull to win the game - if they do, the players are ranked by the most Victory Points accumulated during play. Because of this, Legendary has a cooperative feel.