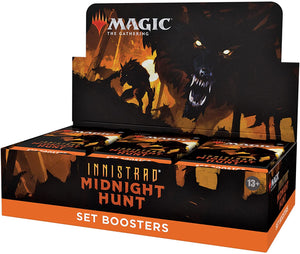 This product will be available 9/17/21. THIS IS A PREORDER.
The Hunt Begins
The dark approaches with Innistrad: Midnight Hunt, the first of two full card set releases returning to the iconic gothic horror plane.
It's time for the Harvesttide Festival, where the besieged humans of Innistrad hope to ward off the coming dark. Far beyond the village walls, werewolves and other horrors roam free.
As the days get ever shorter, will you fight the creatures that lurk in the shadows... or become one?
Never trust a first impression on the plane of Innistrad—any creature you meet may have another, darker side.
Whether it's werewolves or the humans determined to keep fighting them—even after death—Innistrad: Midnight Hunt is full of double-faced cards.
All of the werewolf creature cards in Midnight Hunt are double-faced cards, plus a double-faced planeswalker card for legendary local werewolf, Arlinn.
On one side, you'll meet the werewolf's human form, but flip the card over and you'll unleash the beast that lies within.
Double-Faced Werewolf Cards
Showcase Eternal Night Cards
Collect cards with black and white art inspired by classic horror films.
All Innistrad: Midnight Hunt Draft, Set, and Collector Boosters contain one Showcase Full-Art Eternal Night Basic Land with stylized black and white art and a special high gloss treatment that makes their pin lines and mana symbols shine.
You may also find Showcase Eternal Night legendary creatures in some Draft, Set, and Collector Boosters!
Showcase Equinox Cards
Showcase Equinox cards feature frames draped with decorations for the Harvesttide festival, and ornate linework colored to perfectly complement their striking alternate-art.
Every Werewolf and Warlock card in the set has both a regular and Equinox version. Collector Boosters contain at least three of these showcase Equinox cards in every pack, and may contain up to five. Equinox Werewolf and Equinox Warlock cards can also be found in some Draft and Set Boosters.
Showcase Cards—Harvesttide & Classic Horror