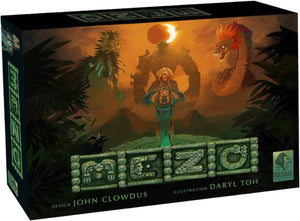 Mezo is an innovative game of area control for 2-4 players inspired by Mayan mythology.

Players control a powerful god and a tribe of followers. These tribes will clash for dominance, build step pyramids, and make sacrifices all in the name of their god.

The first big box game from Small Box Games designer John Clowdus (Omen, Hemloch, Neolithic), Mezo redefines area control and conflict-driven game play. The game features massive god miniatures, each with vastly asymmetrical strategies, as well as numerous paths for players to achieve victory!