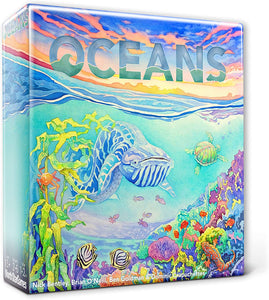 Oceans is a stand-alone game in the award-winning Evolution series.
Oceans depicts the boundaries between the known world near the ocean's surface, and the mysteries lurking in Earth's deepest unexplored region. Enter a vast, underwater cosmos: a mysterious interconnected world of sharp teeth, glowing eyes, and black ink, where your survival depends on your ability to adapt to the unknown.
The foundation of the oceanic food chain are billions of one-celled organisms called phytoplankton that capture the sun's energy through photosynthesis. Every other species in the ocean is a predator, each bigger than the next, all the way up to the dreaded Apex Predator. And even bigger than Apex Predators are enormous Whales that gently swim through the ocean scooping up everything in their path. This ecosystem mimics the known world near the surface.
But there is more if you are willing to dive deeper...
Oceans also includes a deck of 100 unique power cards called The Deep that represents the unknown. These powerful cards break the seams of the reality you've come to accept, ranging from astonishing things found in the ocean, to the fantastical Kraken or Leviathan.