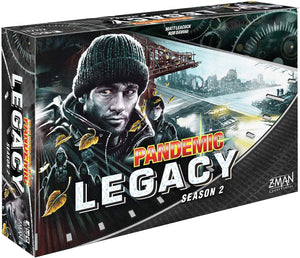 The epic follow up to the critically acclaimed Pandemic Legacy: season 1

Presents a unique spin on the classic Pandemic formula, with players adding supply cubes to the board to ward off the plague

Embark on a Globe spanning struggle for the survival of humanity filled with dramatic twists and shocking revelations

Your decisions carry over to future games, creating a unique world every time you play
Gather your gear and prepare to venture into the unknown! in Pandemic legacy: season 2, the world has been ravaged by a Virulent plague and humanity very survival hangs in the balance. It is up to you to get the last remaining cities the supplies they need while unraveling the mysteries of the plague. Your efforts during this time will carry you past the edge of the known world. Each step you take leaves its mark on the world, affecting future games and bringing you closer to dark secrets that could change the course of history. No matter what happens, though, the world is counting on you. You are humanity's last chance.