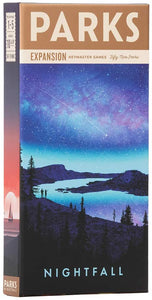 Explore more National Parks in the newest expansion to the 2019 hit board game PARKS

Enjoy 24 new Park Cards featuring all the US national parks not included in the base game

Experience the parks after dark by camping at different trail sites that change every season

Achieve new goals and create new strategies with the reimagined year deck
The national parks exist to preserve many wonders of nature, but they also harbor some of the darkest skies and clearest views of the stars. This is the reason you might hear the saying "Half the Park is after Dark." It is the inspiration for PARKS Expansion: Nightfall. Nightfall offers a whole new year of hiking for PARKS lovers to explore. It includes 24 new Park cards that reward instant actions when visited, a new Year deck along with ways to obtain new Year Cards while hiking, plus the introduction of Camping, which grants powerful once per season actions to those hikers that do not dally on the trail.