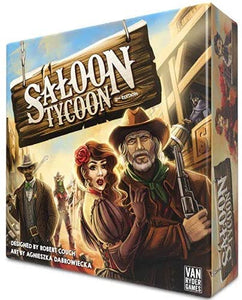 Ages: 10+

Players 2-4

Game Length: 40-80 minutes
Yee haw! Welcome to the Old West! Yer the new and lucky owner of a Saloon lot smack dab in the middle of town. But ya ain't the only one! Outwit your opponents to become the most popular Saloon owner in town by addin' new features for yer customers and attractin' influential citizens to visit yer Saloon. But be careful! Don't let yer Saloon become a place where outlaws loiter!
Roll up yer sleeves, put on yer hat, and let's go build! In this new, updated edition of Saloon Tycoon, you'll be building your Saloon on your own player board, purchasing tiles like the Poker Room, Whiskey Sill or Luxury Suites in order to attract the most valuable patrons. You'll extend your Saloon both horizontally AND vertically, gaining reputation points and onuses as your Saloon grows.
Saloon Tycoon is game that is both easy to learn and quick to play. Players will compete against one another to claim public objectives, but each player also has secret objectives that only they can claim! There are many ways to score and many strategies to employ. In the end, there can be only one Saloon in town...will it be yours?