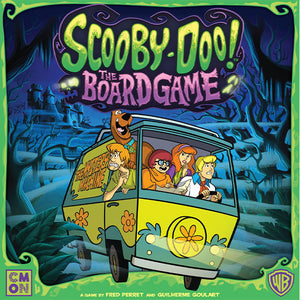 Ruh-roh, Shaggy! There's a monster on the loose, and it's scaring everyone out of town! It's up to the Mystery Inc. gang to stop them! Scooby-Doo! The Board Game is a co-operative family game for 1-5 players that brings the beloved cartoon series to life with amazing miniatures of the whole gang.
Players take on the role of Scooby-Doo, Fred, Velma, Daphne or Shaggy, and ride the Mystery Machine around town, building traps to catch the villains before they frighten all the citizens away — but just like in our favorite episodes, even the best plans can go awry as the monster, which is controlled by the game itself, may make a move the players never expected!
Each member of Mystery, Inc. has their own unique, special ability to help them during the game, and they'll need all the help they can get because the villains all operate differently as well! The gang can succeed only if they coordinate together as a group.
Scooby-Doo! The Board Game has three levels of difficulty (easy/medium/hard) and special rules for playing as a two-player game or a solo game.
—description from the publisher