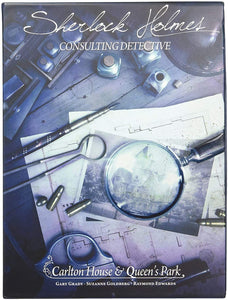 Now is the perfect chance to test your logic and puzzle solving skills with a group of friends or on your own.

Standalone collection of 10 cases to solve in the Sherlock Holmes consulting detective game line

90 Minutes

1-8 Players

14+
The fog creeping its way through the streets of London envelopes you in mist. The streets are lined with gas lit lamps, highlighting the various shops and other establishments. Victorian London is known for its greatness, but within the dark streets, devious acts of crime are committed far too often. Outcries from the beautiful Queen's Park can be heard, warning all that are within earshot that something is perpetually amiss. Whispers in dark taverns mention the mysterious Carlton House Mansion—the crimes that have been committed inside are both unspeakable and incredibly difficult to solve. However, even the most difficult cases to crack are only but a mere game for the world's greatest detective: Sherlock Holmes. Space Cowboys is proud to present a brand new standalone collection of 10 cases to solve in the Sherlock Holmes Consulting Detective game line, with Carlton House & Queen's Park. Some of these cases include the long out-of-print expansions from the original game by Ystari, both updated and revised.