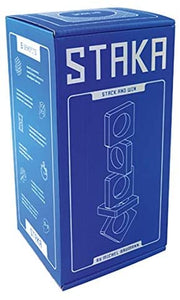 Five modes of play, all explained in less than 30 seconds

Develops focus, dexterity, resilience

High-quality wooden components
Stack and Win! Stack beautifully crafted wooden pieces to win. 5 modes of play extend playability. Duel mode combines speed, dexterity and the satisfaction of completing figures faster than your opponent. Flash mode stresses out everyone for good laughs. Crash mode is best for a big group, while Zen and Art modes are amazing for solo play. Staka combines dexterity, creativity and speed, which are rarely found in combination. It is quick to explain, and its competitive and non-competitive modes are sure to please a wide range of players.