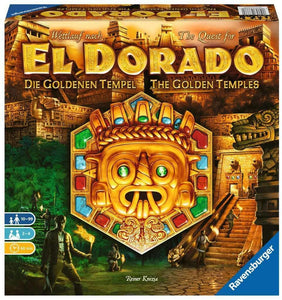 What you get - the golden temples expansion comes with 1 starting tile, 3 Terrain tiles, 3 temples, 1 ending table, 6 blockades, 8 game pieces, 4 Expedition boards, 1 starting player hat, 1 market board, 150 Expedition cards and instructions.

Fun play experience – El Dorado is a deck-building adventure game where players are racing each other to see who will be the first one to reach the legendary city of El Dorado.

Easy to understand instructions – easy to understand instructions guide you through all the new Guardians, gems, and other added game elements. This is a stand alone expansion and can be combined with the original Quest for El Dorado and 1st expansion.

Brand new game elements - in this expansion you'll be experiencing new challenges By having to race to each of the 3 Golden temples to collect 3 gems, torch hexes and more! New action cards and gold medallions will also help you navigate through the new rough terrains and the mysterious Guardians!

Long term quality - Ravensburger has been making products for the hand, head, and heart for over 130 years.

Number Of Players: 2-4
You did it! You have reached El Dorado, the legendary city of gold. As you will soon find out, this is only the beginning of a much grander adventure. Whose expedition will be the first to discover the three mythical gemstones that, according to legend, unlock the Gates to boundless treasure? This sequel to Spiel des jahres-nominated adventure saga the Quest for El Dorado leads you deep into the city of gold. For a truly epic gaming experience, combine the Quest for El Dorado or both The Quest for El Dorado and the quest for El Dorado: heroes & hexes.