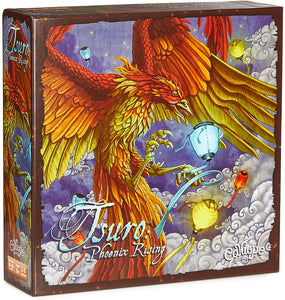 20-50 minutes

2-8 Players

8+

TSURO: Phoenix Rising builds upon the classic Tsuro game, adding new features for more fun! Play double-sided path tiles on a new molded board that allows for diagonal movement and tile rotation. 

GAMEPLAY: Phoenix Rising has new twists, including the ability for players to rise from the ashes like a phoenix once per game to return to the board. To win, be the first to collect 7 star tokens.

DETAILS: Phoenix Rising combines a unique tactical feel with puzzle elements, and a rewarding story with light strategy in an engaging experience with 2-8 players ages 8+. Game plays in 20-60 minutes.

COME AND PLAY: With refined elegance in the Tsuro tradition, this game is perfect for families, teens, adults, and kids. The fast gameplay and simple rules make it a great filler for parties.