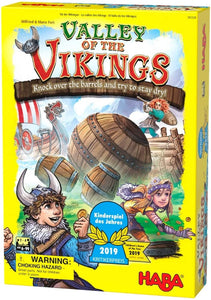 In the Valley of the Vikings, the annual barrel bowling contest is taking place. Use the ball to knock down the right barrels and smart tactics to line up the Vikings on the dock.

Courage, skill and willingness to take risks are needed because players who overextend themselves on the dock and fall in the water go away empty-handed.

Players take turns positioning and trying to knock down the colored barrels in the middle of the board. Depending on which colors are knocked down, they are advanced along the dock accordingly (leapfrog style).

Each spot on the dock represents a different action, such as collecting coins or stealing coins from other players. When all the coins are gone, the player with the most gold wins! This game ALWAYS plays with 4 players, so if playing with only 2, you could lose to a ghost!

2-4 players ages 6 and up. Plays in about 15 minutes.