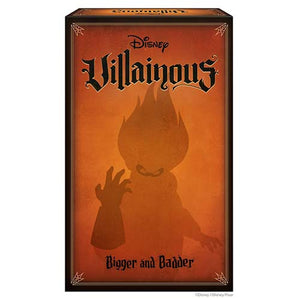 Ages:

 10+

Players:

 2-3

Game Length:

 20 minutes per player
It's Good to be Bad

Take on the role of a Disney or Pixar Villain and strive to achieve your own devious objective. Discover your own unique abilities while dealing twists of fate to your opponents. Who will triumph in this epic contest of sinister power?

The three new Villains: Syndrome (The Incredibles), Lotso Bear (Toy Story 3), and Madam Mim (The Sword in the Stone).

CHOOSE YOUR VILLAIN: Play Bigger & Badder on its own or mix and match with Villains from other Disney Villainous games.

EXPLORE YOUR REALM: Move your villain to different locations from their film.

MAKE YOUR MOVE: Gain power, play helpful minions and items from your hand, or thwart your opponents with heroes!
This game can be played on its own or combined with other Villainous sets for enhanced play.