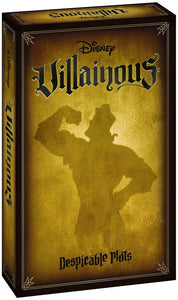 What You Get: 3 Beautifully Sculpted Game Pieces, 3 Villain Realms, 135 Illustrated Cards, 55 Tokens, 1 Tile, 3 Reference Guides, 3 Villain Guides, Rulebook

Characters You Love: Choose Gaston (Beauty and the Beast), Lady Tremaine (Cinderella), or the Horned King (The Black Cauldron) and face off against pesky Heroes like Cinderella, Belle, the Beast, Taran, Princess Eilonwy, and Hen Wen!

Great for Disney Fans and Families: Whether you're holding family game night, playing with a group of devoted Disney fans, or delving into strategy games with experience gamers, Despicable Plots is perfect for any gaming occasion and makes a great gift for Disney lovers!

Mix and Match Villains: While you can play with two or three people with Despicable Plots on its own, you can also mix and match Villains from other Disney Villainous games for up to a six-player game!