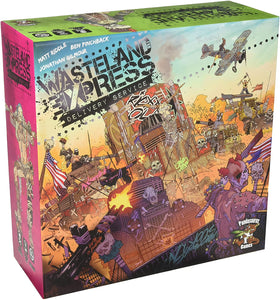 From the designers of dead of winter and fleet

Includes 10 unique, gorgeously detailed mini vehicles, 10 custom sculpted dice and 75 sculpted plastic goods

Custom game tray system nests into box and makes set up and play a breeze. A 40 dollar value

Features over 40 pieces of unique and vibrant art from renowned comic book artist, Riccardo Burchielli

Campaign mode with emergent narrative also included in game
The wasteland is a barren mess of sand dunes, radiation and hostile Maniacs, which makes for an interesting day's work at the wasteland express delivery service. Players are tasked with fighting off Raiders as they pack goods across dangerous terrain in exchange for $crap, all while trying to accomplish priority first class missions. A visit to the mod shop can provide guns and other truck modifications for a different strategy: ambushing Raiders and stealing their supplies instead of buying one's own. Mission's range from housing and delivering nuclear warheads to successfully destroying grand Lord Emperor torque, The half man, half engine, full maniac that controls much of the land and every game is unique.